The best things in life are experiences and travel is something that truly nourishes the soul. Add a little bit of wine and you have the kind of experience that inspires and uplifts…especially from an ocean view hotel along the California Coast.
At Sea Bird Wines we are dedicated to helping preserve our marine habitats, because we believe you can't have great wine without a health ocean influence. We source our fruit from Sonoma and Napa counties where the coastal influence from the Bay Area provide cool misty mornings. As a result, the bright acidity and playful fruit that comes as a result is what we love about our region.
The profits from each bottle of Sea Bird Wines gets donated to non-profit organizations like 4ocean and International Bird Rescue. These agencies are dedicated to preserving coastal marine life habitats so the ocean stays healthy…which means we can continue making great wine.
When we're dreaming of a getaway, you can bet we're grabbing a bottle and heading along the California coast. Here are a few of our favorite places to  grab a beach blanket (and perhaps a sweater for that Pacific breeze) and sip on a bottle of Sea Bird as the waves roll in.
Nick's Cove in Tomales Bay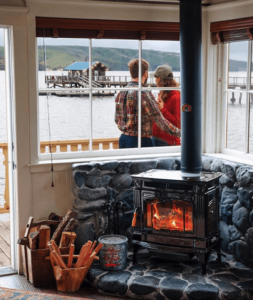 Unplug and head to the coast in Tomales Bay, located over an hour outside of San Francisco. You'll make your way past wine country (and perhaps drive right past the Sangicomo Family Vineyards if you drive through Petaluma!) to the most peaceful boutique on the water, NIck's Cove.
We fell in love with these remodeled waterfront bungalows that will allow you to truly feel removed from the world, if only for a weekend.
Bring some cheese, crackers and charcuterie along with a bottle (or two) of Sangiocomo Robert's Road Vineyard Pinot Noir to sip on your patio dock. Better yet, order up some room service oyster plucked straight from the bay.
Cavallo Point in Sausalito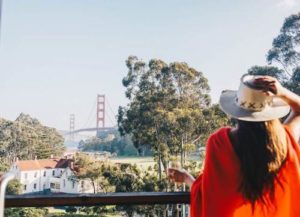 At the foot of the Golden Gate bridge, we love the ethos of Cavallo Point. Dedicated to both a luxurious stay as well as a green and socially responsible lodging thanks to their Certified LEED Gold Status. Bonus points for being both close to the city, as well as just a short drive up to Napa & Sonoma Wine Country.
Bring along a bottle of Broken Rock Cabernet Sauvignon as the fog settles in along the Sausalito waterfront and the lights from the Bay Bridge and Golden Gate twinkle in the mist.
Carmel Valley Ranch in Carmel By The Sea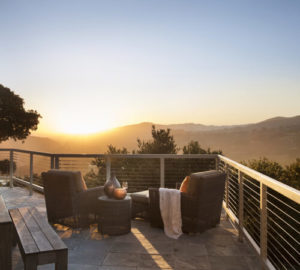 Catch us at the Vineyard Oak Suite with outdoor tub and all; we love the sustainability practices at Carmel Valley Ranch.
A special nod to their acres of lavender used to create their own aromatherapy bath amenities. When you're sitting on the deck sipping on a chilled glass of Sangiacomo Robert's Road Vineyard Chardonnay you can almost smell a waft come over you. You can even experience the Bee Life on the Carmel Valley Ranch Organic Farm. A little fresh honeycomb sounds like the perfect addition to our cheese board.
Hotel Del Coronado in San Diego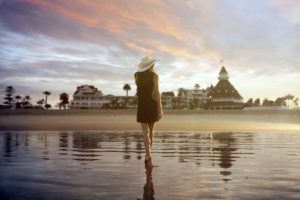 The most iconic hotel in SoCal deserves to meet our signature Cabernet Sauvignon named for the King of the Sea; enjoy the historic seaside charm while you sip and swirl Poseidon G3 Vineyard Cabernet Sauvignon on the Pacific edge of Coronado Island. The Hotel Del's legendary past of over 130 years hosting celebrities, royalty and families alike is the perfect place to enjoy a glass of wine with a nod of history.
Wherever your wanderlust takes you….we hope you have a corkscrew and a bottle of Sea Bird Wines with you to enjoy Great Vines To Great Times to whatever ocean view hotel you find along the way.