We were pleased to pour a little splash of Sea Bird Wines for Wine Critic and columnist Robert Whitley, during the 17th annual Critics Challenge Wine and Spirits Competition in San Diego. During the competition, reviewers evaluated more than 250 young wines over two days, assigning a platinum, gold, or silver award to wines of outstanding merit.
We were thrilled to receive a place among other great wines in Robert Whitley's "Platinum Parade" column. According to Mr. Whitley, "to earn platinum, a wine "must achieve a score of 94 points on the infamous 100-point scale. Over the weekend at the Critics Challenge, I had the opportunity to taste dozens of truly exceptional wines, but only 15 of those rose to the level of platinum on my personal scorecard." Sounds like we have another feather to add to our caps! 
Here's what they were sipping:
Sea Bird 2017 Chardonnay, Courtney's Vineyard, Sta. Rita Hills
Full-bodied and rich but without losing its edginess, this is a beautiful example of what California Chardonnay can be. With complex layers of baked apple, lemon creme, and toasty wood spice, it has a little something for everyone.
Rating: 94 points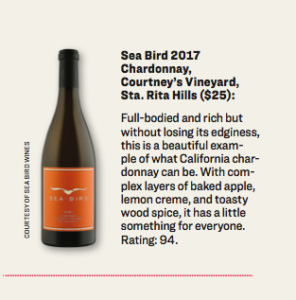 With every bottle we share with critics, friends and family alike, we are proud to be able to share our mission. First and foremost, we want to bring you great wine that makes every moment better. Every vintage is a chance for us to produce something amazing, and we hope you agree! Second is our namesake mission; to help preserve and protect our coastlines for marine wildlife for future generations to come. When you buy a bottle of Sea Bird Wines to enjoy, we give back 100% of our profits to marine wildlife conservation efforts (most recently, the Marine Mammal Stranding Center). We couldn't do it without you, and every drop counts!
Head on over to our online store to pick up some wine to enjoy!