Farmed by the Sangiocomo Family, we sourced our 2014 Sangiocomo Pinot Noir from this prestigious Sonoma vineyard just at the base of the Sonoma Mountain.
A long, slow growing season with well-draining, silty soil makes this the ideal place to grow Pinot Noir, along with Chardonnay. The vineyard welcomes in a cool morning fog from the far northern edge of the Petaluma Gap, and long, warmer days over the course of the growing season. The result is balanced, healthy vines planted to over 130 acres.
The 2014 vintage was another year for the books in California winemaking, and the Sangiocomo Pinot Noir vineyard was no exception. This vintage brought and early spring, and as a result, an early finish in the fall. Perfectly warm days and cool nights in Sonoma cultivated the best expression of balance in Pinot Noir with elegant tannins, bright fruit and lively acidity.
Sea Bird's 2014 Sangiacomo Road Pinot Noir brings the fruit from this well-respected vineyard to life. Aromas of raspberries, violets and leather rise from the glass. This wine spent 14 months in New and Used French Oak barrels, lending a medium weight to the wine with minimal oak influence that allows the polished tannins to shine through.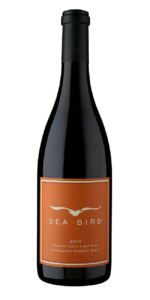 A recipe for #GreatTimes
With its bright acidity and lush mouthfeel, our Pinot Noir goes to great lengths and plays beautifully with a light and fresh meal.
This Baked Salmon with Herbs & Lemon is a perfect weeknight meal with minimal prep, lush flavor, and captures the savory notes of the wine in an elegant finish. Whether you're kicking your feet up on a Tuesday or inviting close friends for dinner, enjoy an easy meal with a bottle of wine that will take you from Great Vines to Great Times, one sip at a time.